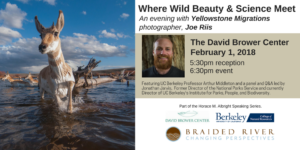 February 1, 2018
5:30 - 8:30 pm
Wildlife photojournalist and National Geographic fellow Joe Riis, who has documented the migrations of pronghorn, mule deer, and elk in Wyoming for more than a decade, will give a multimedia presentation and book signing of his new book, Yellowstone Migrations. A reception begins at 5:30 pm with the program at 6:30 pm.
Riis will be joined by ecologist & UC Berkeley Professor Arthur Middleton, a Yellowstone Migrations contributor and primary scientific collaborator. The event features a Q&A and discussion led by Jonathan Jarvis, former Director of the National Parks System under President Obama. He is currently Director of the Institute for People, Parks, and Biodiversity at UC Berkeley.
Part of the Horace M. Albright Speaking Series, the event is sponsored by UC Berkeley College of Natural Resources and nonprofit publisher Braided River, and is hosted by the Brower Center, whose current exhibit, On Beauty, features the work of the late conservationist Doug Tompkins, whose pioneering use of the large-format photo books illustrates how beauty and ecological health are intrinsically linked.
"Animals don't see boundaries or borders. Their quest for food and shelter is instinctual, and I hope my images help people understand and experience that." – Joe Riis
February 9, 2018 - February 11, 2018

Nancy Karp + Dancers is premiering On Beauty, a new work created and performed at the Brower Center, and inspired by the exhibition, Douglas R. Tompkins: On Beauty. On Beauty features a sound score by Bay Area composer Charles Amirkhanian, and dancers Sonsherée Giles, Sebastian Grubb, Amy Lewis, Megan Lowe, and Charles Slender-White.
Photo by John Hefti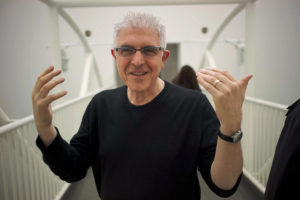 February 15, 2018
7 - 9 pm
The 
David Brower Center
 & 
Other Minds
 are pleased to present internationally-renowned sound artist Bill Fontana for the first installment of our 2018 
The
Nature of Music
 series. Fontana will present his recent work, including moving images and examples of his environments, created from layered, geographically diverse sounds in real-time. He will be presenting samples from 
Shadow Soundings
, a recent project in Lisbon, and a project he is doing for the International Renewable Energy Agency, 
Primal Sonic Visions
.