Leadership
MARIA SCHELL HASSID

Executive Director
Maria is proud and honored to serve as the Executive Director of the David Brower Center. Prior to joining the Center, Maria ran operations and talent for Magical Bridge Foundation, a Silicon Valley-based nonprofit that builds highly inclusive playgrounds around the world. For nearly a decade, she served as the program director for Alternative Ventures for At-Risk Youth, a Marin-based nonprofit dedicated to children with parents in prison. She has a BA in Psychology from Smith College and was the valedictorian of her MBA class at UC Davis. Maria loves hiking in the Oakland Hills and trips to Yosemite Valley with her family, where she enjoys watercolor painting.
Events Team
KERRY FIERO

House Manager
Kerry has worked in the music and production business for over 20 years. After receiving a BA at Cal State University, Northridge, Kerry landed in the Music Business where she managed signed and independent music artists, worked on many recording projects, toured in the US and internationally, managed venues, and booked and promoted countless events. In 2009, Kerry began focusing more on Event Planning and has since produced a range of events (conferences, galas, festivals, etc.) around the Bay Area.  Kerry is an Adjunct Professor at San Francisco State University in the Music/Recording Industry Program and the Event Planning Program. When not producing events or teaching, Kerry is the PTA President at her son's school and loves traveling with her son and husband.
SHIRLEY HUEY

House Manager
Born and raised in San Francisco, Shirley is a writer and storyteller with a BA from UC Berkeley in English and JD from NYU Law. She has read her work at the Oakland Asian Cultural Center, the Bay Area Generations reading series, Quiet Lightning, Liminal, Book Passage, Red Bay Coffee, Kearny Street Workshop, and Eastwind Books of Berkeley. Shirley writes about food, arts and culture, and social justice issues. She is also a facilitator, researcher, and grant writer who works on community engagement, organizational development, and transformational social change projects. Shirley loves to cook, eat, read, explore nature, and wander around Bay neighborhoods.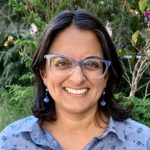 DARSHAN KHALSA

House Manager (In Memoriam)
In memoriam: Darshan Khalsa, a valued member of the Brower Center events team. We'll keep her memory alive and forever miss her vibrant presence and warm yet no-nonsense acumen.
TIM MCGRAW

House Manager
Tim has been a reporter, travel writer, advertising copywriter, and publicist. He graduated from the University of Missouri-Kansas City and lived in the Washington DC area before moving to California in 2000. When Tim and his wife aren't entertaining three grandchildren, he loves live music of all kinds. He has been the volunteer coordinator at the local music venue Freight & Salvage for ten years. Tim says it's a privilege to be working for two great organizations and the communities attached to them.
CHRISTIANA ROVERSO

Audio Visual Technician
Christiana brings years of experience in the audio visual industry from Verducci Event Productions where she also led teams in managing and maintaining audio equipment for live events. She also brings wide-ranging skills in customer service, sales, beverage & hospitality, non-profits, lighting and event production. As the artist known as "Versoul" (aka Babii Cris), Christiana is also a multi-genre music artist, producer and audio engineer with 3 released albums. For over 11 years, she's recorded and mastered music, performed in various Bay Area venues, and began freestyling and rapping at a young age. She studied Electronic Music at College of San Mateo, and hold an Associates of Science in Applied Audio from SAE Institute in Emeryville, California.
APRIL C. TAYLOR

House Manager
April is an event and theatrical professional who has worked throughout the Bay Area for over twenty years. April is passionate about environmental awareness and considers it an integral part of her identity. She is thankful to work at the Brower Center, a place that unites these two passions: event production and environmental education/justice. April is also a devoted dance and theatre teaching artist who leads classes for families, young children, and K-12 students. She is a faculty member at Shawl-Anderson Dance Center and Yoga Alameda. April loves meeting new people and "hosting" events of all sizes: intimate dinner parties to multi-day weddings, parties or conferences. You can learn more about April at her website.
Board of Directors
PETER K. BUCKLEY

Founder, President
Peter initiated the David Brower Center, and has led as President since its inception. He co-founded the Center for Ecoliteracy in 1995 after a career as CEO of Esprit-Europe and Esprit-International, and an earlier career as an attorney in San Francisco. He is co-founder of Greenwood School, a K-8 school with an environmental emphasis, in Mill Valley, California. He also serves on the boards of Conservation Land Trust and Conservacion Patagonica.
ADAM BERMAN

Adam is an organizational consultant who focuses on strategy, marketing and fundraising primarily for Jewish and environmental organizations. He is the Founder and former Executive Director of Urban Adamah, a community farm and environmental education center in West Berkeley. Prior to founding Urban Adamah, Adam served as the Executive Director of the Isabella Freedman Jewish Retreat Center (2002-2008), a progressive Jewish retreat center and community in the Connecticut Berkshires. For three years (1996 – 1999), Adam served as the Director of the Teva Learning Center, the leading Jewish environmental education program in the United States. He holds an MBA from the University of California at Berkeley and a B.A in Environmental Studies from Brown University. He currently lives in Berkeley with his wife Deena and daughters Shira and Maya.
KENNETH DAVID BROWER

Ken is the oldest son of David Brower. His earliest memories are of following his father down various trails in the wild country of the American West. He is a free-lance writer specializing in environmental issues and the outdoors. He is a regular contributor to the Atlantic Monthly, Audubon, Smithsonian, various National Geographic publications, and other journals. He is the co-author of a half-dozen books and the author of 13 more, among them The Starship and the Canoe, Wake of the Whale, A Song for Satawal, Freeing Keiko: The Journey of a Killer Whale from 'Free Willy' to the Wild and most recently The Wildness Within: Remembering David Brower.
JOHN FLORES

Treasurer
John has 30 years of administrative and managerial experience in municipal government. As City Manager of the city of Emeryville for 19 years, he was prominent in the long- and short-term planning of the city's future and instrumental in the redevelopment and cleanup of numerous toxic sites in that city. He was previously with the city of Oakland for 11 years, serving in increasingly responsible administrative roles leading to the position of Deputy City Manager. John has a masters degree in public administration from Golden Gate University and an undergraduate degree in social science from San Jose State University. In his retirement, he is active on several nonprofit boards in his favorite fields of education, environment, and the arts. A longtime Oakland resident, in 2015, John temporarily came out of retirement to serve as Interim City Administrator under new mayor Libby Schaaf.
JOHN A. KNOX

Secretary
John is Executive Director Emeritus of Earth Island Institute. He began with Earth Island as a volunteer in 1984, and began serving as Executive Director in 1985. Having begun his environmental work at Friends of the Earth in the early '80s, John has had a key role in consolidating and expanding Earth Island's unique organizational model for growing environmental leadership, integrating public education and membership building with project development/sponsorship and youth leadership support. John received his B.A. in psychology from Antioch College in Ohio.
DAVID PHILLIPS

David is Executive Director of the Earth Island Institute. He has served in that capacity since 1985. David specializes in international marine wildlife conservation, directing the Institute's International Marine Mammal Project, with staff in the US, Thailand, Mexico, Philippines, Costa Rica, Colombia, Ivory Coast and Italy. In 1995, David founded the Free Willy-Keiko Foundation, successfully overseeing an ambitious international campaign to attempt the first rescue, rehabilitation and release of an orca whale to its native habitat in Iceland. Mr. Phillips was a cum laude graduate in biology from Colorado College.
NANCY SKINNER

Nancy represents California's 9th Senate District, which includes the cities of Alameda, Albany, Berkeley, El Cerrito, Emeryville, El Sobrante, Hercules, Kensington, Oakland, Piedmont, Pinole, Richmond, Rodeo, San Leandro and San Pablo. A social justice advocate, energy and climate change trailblazer, and accomplished legislator, Skinner completed three terms in the State Assembly. Senator Skinner began her public service in 1984 as the first and only student to be elected to the Berkeley City Council. On Council Skinner introduced the nation's first Styrofoam ban and co-founded an international association of cities, ICLEI-Local Governments for Sustainability. After her term on the City Council, Skinner served as Executive Director of ICLEI's US office and International Director of ICLEI's Cities for Climate Protection program which engaged cities worldwide to take action to stop climate change. Skinner is a past member of the East Bay Regional Park District Board, a former small business owner and an advocate to increase women in elected office. She served on the Board of the East Bay Women's Political Caucus and launched the statewide Women in Power Pac (WIP Pac) to support Democratic women.