Grades 9-12, Richmond High School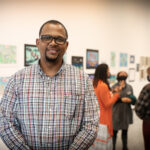 What does Rebellion mean?
And how do we use this to stop our world from destroying itself? How can art release frustrations and inspire others to change? Deryk Hudson's Beginning Art classes of 9-12th graders tackled these big questions.
After studying National Geographic's videos on "Planet or Plastic?" students delved into how this impacts our lives directly and discussed what we can do about it.
Hover to pause. Use left and right arrows to navigate.
Selected Artist Statements
My art is my way of coping with some of these concerns (hotter temperatures, rising sea levels, severe weather climates) since I don't think I'll be able to handle witnessing these type of things in real life.

It makes me feel sympathy for these animals, as well as guilty and ashamed for people, like me, who can't seem to care as much.
For me, art activism means to bring attention to. To encourage social change using your dynamic skills through art.
– Anonymous
I would love for my art to inspire someone to pick up a piece of trash, even if it's not theirs. Or stop themselves from littering. Because little things make big changes!
With time, we've made a plastic barrier for ourselves without notice or care. PWC has a plastic barrier around everything, showing how it not only affects people but animals.
My art helps me manage by letting me let all the worry out. If I were to draw this and show others, people might see and understand.
– Teresa Araujo Ortiz
Art activism to me is being able to express my worries and feelings and being able to visualize it and create a bigger picture which cannot be created vocally.
I'd like my art to empower other youth to use their art to speak on social issues and be the change within their community.
I'd also like my art to bring together multiple identities to voice a stronger message and come to mutual understanding, so needed in society currently.
-Abraham Blanquel