We're excited to be open to the public! Join us for the below, or see Client Events for more. 

June 9, 2022 - September 15, 2022

In Uncharted Waters,
Ann Holsberry
's large silk cyanotype prints of sea kelp and their predators dance above the two-story public atrium of the David Brower Center to create an immersive underwater environment—evoking the beauty and fragility of nearshore ecosystems, in order to inspire their protection. Ann participated on June 23, 2022 in a panel discussion with members of the
Above/Below Project
, a group of women artists, scientists, strategists and ocean advocates whose aim is to raise awareness of ocean stewardship. She also taught a nature-based cyanotype workshop in partnership with
Youth Spirit Artworks
to advance art opportunities for underserved youth. Funded by a Berkeley Civic Arts Grant.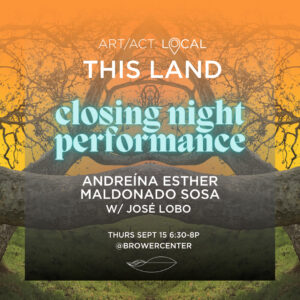 September 15, 2022
6:30pm - 8:00pm
A breathtaking, interactive performance
Unveiling layers of our transformation into humanity via Mother Earth by Andreína Maldonado aka Nina Limón & José Lobo
Closing out the last day of
Art/Act: Local "This Land,"
 an art exhibit exploring our connection to land. Andreína imbues her piece with her varied background: Venezuelan multidisciplinary performing artist, cultural worker, entrepreneur, and registered Integral Yoga teacher. She is based in Yelamu, Ohlone Territory (aka San Francisco). Around her, José Lobo's cinematic, ethereal storytelling connects vocal harmonies, audio interwoven from the gallery's own video pieces, and drones blending Nordic landscapes with the infiniteness of Venezuelan prairies and tonadas. Backed by the San Francisco Arts Commission, California Arts Council, National Association for Latino Arts& Culture (NALAC), and Marin Headlands Center for the Arts, Andreína works with domestic laborers in public art projects, placing them at the forefront of organizing efforts, and shifting dominant narratives about labor. Don't miss her upcoming 
Our Work, Our Dignity
 with domestic workers: Sept. 24, at Dance Mission Theatre!
Last chance to view "This Land"
Alicia Escott
, 
Dominick Porras
, 
Nicole Irene Anderson
, and 
Sherry Xiang
 expand your understanding of what our intrinsic connections to the land entails—from the ecological to the sacred. From sweeping landscapes to interactive petroglpyhs to live plants that sing and model collaborative communities,
"This Land"
 will bring you back to what's essential.
6:30-7p Exhibit Opens
7-7:30p Andreína Maldonado performs among the gallery works
7:30p Artists reflect on the exhibit and their work
Art/Act: Local
 is the midyear exhibition of our annual series that serves the lifecycle of artists—from Art/Act: Youth in the spring to accomplished professionals (Art/Act: Award) in the fall. A juried selection of Northern California emerging artists grappled with 2022's theme: [su_pullquote]"What does it mean to be connected to the land that holds us and life on this planet, along with the imperative to protect it?" —José González[/su_pullquote]