Green from the ground up, the Brower Center is a powerful model of sustainable, mixed-use development. Utilizing the latest in energy-saving technologies and recycled building materials, the Center makes as light a footprint on the Earth as possible, taking into account the true life-cycle cost of building construction, operation, and maintenance.
Learn more about the Brower Center's up-to-the-minute building data at our Building Dashboard.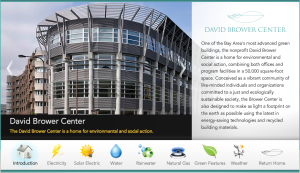 The Brower Center has received a LEED Platinum rating, the highest possible rating from the US Green Building Council's Leadership in Energy and Environmental Design program.
The Brower Center's design features include:
Construction using 53% recycled materials;
Photovoltaic panels which double as a sun shade device;
100% daylighting of all office areas;
Collection and reuse of rainwater for irrigation and toilet flushing;
Extremely low energy mechanical systems using radiant heating and cooling within the building's concrete structural slabs;
Solar shading devices on all south-facing windows;
High efficiency lighting with automatic controls to limit use when adequate daylight is available;
Concrete with slag to significantly reduce CO2 and cement content, and to increase strength;
Vertically post-tensioned structure to minimize potential damage due to earthquakes;
Operable windows and low pressure ventilation via the raised floor system to maximize indoor air quality;
Co2 sensors that call for extra fresh air if required; and
Exterior and interior materials that ensure healthy air quality, maximize recycled content, avoid off-gassing, and minimize environmental impacts from production and transportation.
Designed by acclaimed architect Dan Solomon, the David Brower Center follows the example of some of Europe's most distinguished recent green buildings in both its contextual fit and use of innovative technologies. In so doing, the Brower Center is articulated with a distinct base, middle, and top. The base is formed by awnings, arcades, and entrances for the various ground floor uses, while the middle of the building is defined by exposed structural columns and various light control devices. A projecting upper floor and sculpted awning structure that orients photovoltaic panels southward toward the sun delineates the building's top.