We're back and smarter than ever about all pandemic-related issues.
Here are upcoming events by rental clients hosted in our space.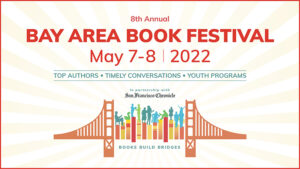 May 7, 2022 - May 8, 2022
11:00am - 6:15pm
The Bay Area Book Festival is one of the leading literary events in the U.S., and one of the most international. It's the biggest literary weekend of the year in Northern California. To date, the Festival has featured more than 1,500 notable authors, including winners of the Nobel Prize, Booker Prize, Pulitzer Prize, National Book Award, Prix Goncourt, and many other awards, in 500+ distinct literary events over the past seven years that have attracted 125,000 attendees. After two years of virtual programming, the Festival will be returning to Downtown Berkeley with some of the most perceptive, spellbinding, lauded authors and thinkers of today, writing in many genres and representing a wide diversity of backgrounds, who will appear on indoor and outdoor stages and via livestream.