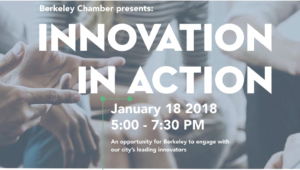 January 18, 2018
5 - 7:30 pm
The Berkeley Chamber, with support from the Berkeley Startup Cluster and Berkeley's Office of Economic Development, will be hosting a spinoff to our successful, long-running event, the Berkeley Visionary Awards.
The Berkeley Visionary Lab series is meant to create regular opportunities for our city's leading entrepreneurs and innovators to interact with elected officials, other local businesses, and the broader Berkeley community. For this first event, "Meet Our Innovators," we will hear from three Berkeley startup leaders:
Vivienne Ming of SOCOS Learning, a company that uses machine learning to predict and change outcomes in children's educational processes
Andy Schmeder of EnChroma, a West Berkeley-based start-up which produces glasses that enable color-blind people to see colors normally
Sean Wihera of Clarity, a start-up based at CITRIS Foundry that has developed an innovative hardware + software solution for real-time, high-resolution air quality monitoring.
We are happy to announce that Mayor Jesse Arreguin will be joining us, as well as other elected officials.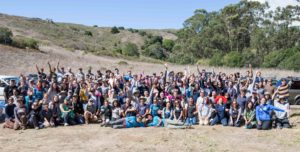 January 25, 2018
9:30 am - 1 pm
Good policy matters. But it's not guaranteed. From climate change, to fire, rain, and drought, to rising development pressures on our natural and working lands, good policy plays a critical role in addressing our region's most pressing land conservation issues.
Join us at our policy gathering to get the scoop on the latest proposed legislation, bond and funding measures, and agency programs in the upcoming year that could fund, benefit, or impact Bay Area land conservation and your work. Whether you consider yourself a policy wonk or you are brand new to policy and campaigns, the panel will offer helpful insights on how we can work together as a region to advance land conservation policy and funding.
Panelists: Deb Callahan, Moderator, Executive Director, Bay Area Open Space Council; Fred Keeley, Board Member, Sempervirens Fund; Former Speaker pro Tem, California Assembly; Robert Doyle, General Manager, East Bay Regional Park District; Marc Langraf, External Affairs Manager, Santa Clara Valley Open Space Authority; John McCaull, Land Acquisition Program Manager, Sonoma Land Trust; Policy & Advocacy expert - TBD. 
Watch this and our event page for updates.
Photo: Maria Durana, courtesy of Golden Gate National Parks Conservancy