We're back and smarter than ever about all pandemic-related issues.
Enjoy these upcoming events by venue clients hosted in our space.
Interested in having us host your event? Contact events@browercenter.org!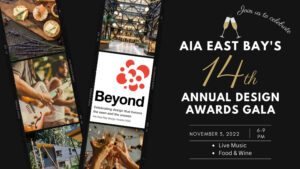 November 3, 2022 - November 3, 2022
6:00 pm - 9:00 pm
The AIA Design Awards gala honors outstanding achievements in architecture and design—including ecological and environmental sustainability, social responsibility, and a strong sense of place. It recognizes exemplary contributions by teams of architects, contractors, and developers. The biggest fundraiser of the year, the gala enables AIA East Bay to offer an array of programming, advocacy, sustainability resources, & professional development, while fostering the next generations of design professionals.
Learn more.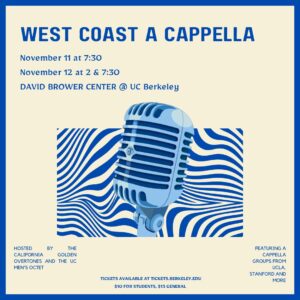 November 11, 2022 - November 12, 2022
7:30 pm - 7:30 pm
The California Golden Overtones and UC Men's Octet proudly present their annual West Coast A Cappella Showcase, featuring A Cappella groups from all over the West Coast: Stanford, UC Davis, UC Santa Cruz, UC Los Angeles and more. See you there! // Nov. 11 @ 7:30pm // Nov. 12 @ 2pm & 7:30pm // Tickets $10 students, $13 general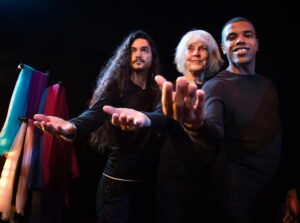 November 18, 2022 - November 18, 2022
8:00 pm - 10:00 pm
Interactive storytelling with The Living Arts Playback Theatre Ensemble using your stories!
A troupe of improvisational actors and musicians, Living Arts Playback Theatre Ensemble will "play back" personal stories shared by audience members in ways that both honor and illuminate the original experience. At the heart of this work is a profound respect for the power of personal story to build bridges between people and cultures. Created in 1989 under Armand Volkas, the Ensemble has received international recognition for bringing groups in conflict together—from Germans and Jews, to Palestinians and Israelis, to Japanese, Chinese and Koreans, and Armenians and Turks.