As of April 5th, the Brower Center is open to the general public for walk-ins with limited capacity (10 people maximum) from 10:00 am – 3:00 pm Monday through Thursday. We will also be open for our resident organizations to return to their office operations at 25% capacity. The current exhibition on view is Art/Act: Award – Frans Lanting, Into Africa.  Please note that you may be asked to wait until space becomes available in the gallery.
Conditions change rapidly and our top priority is to keep you and our community safe, therefore we have made many adjustments to our operations which must be adhered to by visitors. They include wearing masks in the building.
Below are some of the steps DBC is taking to adapt our building operations to the new normal.
FOR THE PUBLIC: GALLERY OPEN FOR WALK-INS
As of April 5th, our building is open to the public to view the Hazel Wolf Gallery's current exhibition, Art/Act: Award – Frans Lanting, Into Africa.
Signage has been placed throughout the building with directives on physical distancing, separate entrances and exits, and elevator use. Wearing face masks and maintaining physical distance is required for all when entering and moving around the building. 
Be advised that we have modified use of the building to include rigorous daily cleaning and disinfections, physical barriers have been installed at our front desk, and we are limiting staff time in our Administrative Office with staggered schedules that divide staff time between remote and office work.
The Brower Center is one of the healthiest buildings in the East Bay. The ventilation system is a dedicated outside air system (DOAS) that provides 100% fresh outside air directly into the building's spaces through an underfloor air distribution (UFAD) system, which
avoids overhead ducts and diffusers. There is a complete exchange of air in the building at least every hour.
FOR EVENT PARTNERS AND CLIENTS: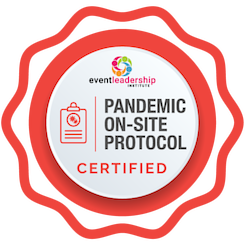 DBC's Conference Center typically hosts approximately 400 events per year, but that is currently not an option given the health concerns over in-person events that can spread COVID-19. Please see our Events Protection Plan to learn about the many new systems we have put into place to ensure safety once the building is allowed to reopen. 
Our events team is working remotely and is expanding our knowledge of pandemic risks and how to host events safely once it is possible to do so, including through trainings such as the Event Leadership Institute's Pandemic On-Site Protocol course.
We are accepting event bookings for later 2021, as well as general inquiries. Please contact us or fill out our online inquiry form for more information. 
FOR OUR RESIDENT ORGANIZATIONS:
Outside of public usage, DBC also serves as the office space for a host of local Resident Organizations. Resident Organizations have their own access to the building and will be responsible for ensuring that their own office suites comply with the guidance. Our Building Protection Plan outlines the guidance we have shared with them to ensure best practices.
The State of California has issued this guidance on office workspaces. We will continue to update you as we learn together and as State and County orders change. Please note that the County restrictions may be stricter than the State of California, and the stricter directive takes precedence.